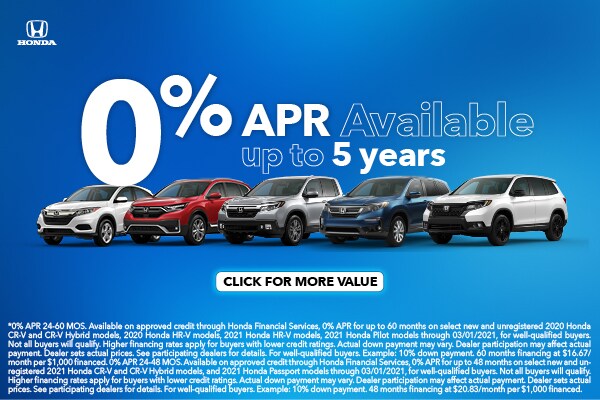 Buy or Lease Your Next Vehicle at The Automaster Honda Today
At The Automaster Honda, we want to make shopping for your next vehicle as simple and enjoyable as possible. We understand that it's a big decision to buy or lease your next car, and we want you to be completely confident that the plan you're choosing is the best option for you. That's why our financing team is here to help you every step of the way. Whether you're already set on buying or leasing your next vehicle, or you don't which option is right for you, we're here to walk you through each option so you can drive home to Burlington behind the wheel of your dream car knowing that you made the best decision to fit your budget and lifestyle. To make your vehicle financing experience even clearer, we're going to explain some commonly asked questions surrounding financing or leasing new Honda models and used vehicles to give you a clear, concise reference to use when shopping for your next vehicle.
Should I Buy or Lease My Next Vehicle?
Both buying and leasing your next vehicle offer great advantages for drivers all over South Burlington, Essex and beyond, but it depends on what you're looking to get out of your vehicle. To help you better understand which option is ideal for you, we're going to highlight the advantages of both buying and leasing a new vehicle with us.
Why Buy?
You Own the Vehicle: Yes it seems obvious, but what privileges does owning your vehicle award you? If you take out a loan to buy your vehicle, after you pay it off, the vehicle is yours to do with as you please. You can customize the appearance of your vehicle anyway you want with stickers, a new paint job, and more. You can even enhance the appearance, with body kits and other unique flairs to help it stand out as truly your own. Owning your vehicle also enables you to pick and choose when you want to address a cosmetic flaw or servicing issue.
Drive as Much as You Want: Leasing a vehicle often comes with mileage restrictions, but when you own your vehicle you can drive as many miles as you want. From your daily commute around Essex Junction and Shelburne to your frequent trips out of town, or an adventure across the country, owning your vehicle gives you the freedom to drive anywhere.
You Decide When to Sell: You can choose when and where to sell your vehicle when you're ready to upgrade. Whether you trade it in at the dealership or sell it to a third party, you get to set the price and decide which option is the best fit for you.
Why Lease
Save Money: When you lease a vehicle, you only pay for the period of time that you're driving it, allowing you to enjoy a lower monthly payment and often a smaller down payment, if any.
Drive a New Vehicle More Frequently: Lease periods tend to last around 2-3 years, meaning that when your lease period is up, you can return your vehicle and easily upgrade to a newer vehicle. This makes leasing a great option for anyone that doesn't want to commit to one vehicle for the long term, or who wants to enjoy the latest features and updates every few years.
Warranty Coverage: Your vehicle is likely under warranty for the entire time that you drive it, meaning that all service appointments will be covered, allowing you to enjoy a like-new vehicle without having to pay for the upkeep.
Learn More About Financing Your Next Vehicle at The Automaster Honda in Shelburne, VT Today
We welcome drivers from all over the greater Colchester, VT and Burlington, VT area to come join us at The Automaster Honda to learn more about buying or leasing their favorite vehicles today. We're happy to walk you through our entire selection of new, used and certified pre-owned Honda models to help you find the vehicle that's right for you, and work with you on figuring out the best financing option possible. Down the road when your vehicle needs servicing or parts, we're here to take care of it all for you. Contact us today with any questions you may have and we'll help you find everything you're looking for.
Start Your Application
Your privacy is important to us.
The Automaster Honda takes your privacy seriously and does not rent or sell your personal information to third parties without your consent. Read our privacy policy.
Hours
Monday

8:00AM - 6:00PM

Tuesday

8:00AM - 6:00PM

Wednesday

8:00AM - 6:00PM

Thursday

8:00AM - 6:00PM

Friday

8:00AM - 6:00PM

Saturday

9:00AM - 5:00PM

Sunday

Closed